Steps to a two state solution: For Israel, for Palestine, for peace
Step One: Tackle the humanitarian crisis in Gaza with emergency infrastructure plan for improving energy supplies, sanitation and clean water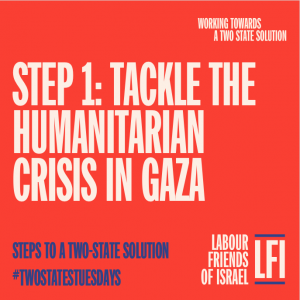 After more than a decade of war, Israeli and Egyptian restrictions, and brutal rule by Hamas, the humanitarian situation in the coastal enclave is dire: the electricity supply is often severely reduced, over 90 percent of the water in the taps is estimated to be undrinkable, and over half of Gazans live in poverty. Crumbling infrastructure causes sewage to flow untreated into the sea off of Gaza, acting as a breeding ground for life-threatening diseases with serious public health implications. Hamas meanwhile spends precious resources importing and manufacturing rockets and constructing tunnels to carry out terror attacks.  
The problem has, at times, been exacerbated by Palestinian Authority sanctions aimed at ousting their rivals, Hamas, from power and the failure of international donors, principally in the Arab world, to make good on pledges made to aid reconstruction efforts after the 2014 conflict.  
In the wake of May's outbreak of violence between Hamas and Israel, President Biden was right to pledge to "marshal international support for the people in Gaza and … the Gaza reconstruction efforts". The president was also right to insist that reconstruction efforts must be conducted in "a manner that does not permit Hamas to simply restock its military arsenal". This requires a robust, round-the-clock and credible monitoring system to ensure that reconstruction materials are not diverted by Hamas into illicit military purposes. As David Makovsky has suggested [https://www.washingtoninstitute.org/policy-analysis/building-bridges-peace-us-policy-toward-arab-states-palestinians-and-israel], if such checks can be put in place, the Abraham Accords provides an opportunity for the US to work with Israel to assemble a consortium of Arab states willing to provide funding for infrastructure and development projects in Gaza. 
At the heart of initial reconstruction efforts should be an emergency infrastructure plan – such as that first presented by Israel in 2018 – that would see major investment by international donors in desalination plants, electricity lines and a much-discussed gas pipeline. This would enable the construction and operation of local power plants that would, in turn, be able to supply nearly all of Gaza's electricity needs.  
The arrival in office this summer of a new Israeli government presents a key opportunity to advance a long-term reconstruction and recovery plan for Gaza. In September, Israel's foreign minister, Yair Lapid, launched a major, two-stage new initiative to tackle the humanitarian crisis and set about the revitalisation of the economy of Gaza. Other crucial components of the plan include a call for the international community to help prevent a Hamas military build-up, the deployment of an oversight mechanism and an effort to bolster the PA, which Lapid, who backs a two-state solution, described as "the representative body of the Palestinians".  
Further Reading:
Lapid proposes 'new vision' for Gaza, promises economic steps for Hamas quiet: https://www.timesofisrael.com/lapid-proposes-new-vision-for-gaza-promises-economic-steps-for-hamas-quiet/
Israel will present plan to rebuild Gaza to be funded by international donors: https://www.haaretz.com/israel-news/.premium-israel-will-present-plan-to-rebuild-gaza-to-be-funded-by-int-l-donors-1.5782230
Israel pushes forward with plans for new gas pipeline to Gaza: https://www.timesofisrael.com/israel-pushes-forward-with-plans-for-new-gas-pipeline-to-gaza-report/
Gas to Gaza? The pipeline that might provide a lifeline: https://www.reuters.com/business/energy/gas-gaza-pipeline-that-might-provide-lifeline-2021-02-23/ 
US looks to rebuild Gaza, but aid could hinge on Hamas's rocket arsenal: https://www.nytimes.com/2021/05/20/us/politics/israel-gaza-hamas-biden-netanyahu.html
The rebuilding of Gaza amid dire conditions: https://www.worldbank.org/en/news/video/2021/07/06/the-rebuilding-of-gaza-amid-dire-conditions
The rebuilding of Gaza amid dire conditions: damage, losses and needs: https://www.worldbank.org/en/news/press-release/2021/07/06/the-rebuilding-of-gaza-amid-dire-conditions-damage-losses-and-needs
Palestinian Territories economic update October 2021:  https://www.worldbank.org/en/country/westbankandgaza/publication/economic-update-october-2021