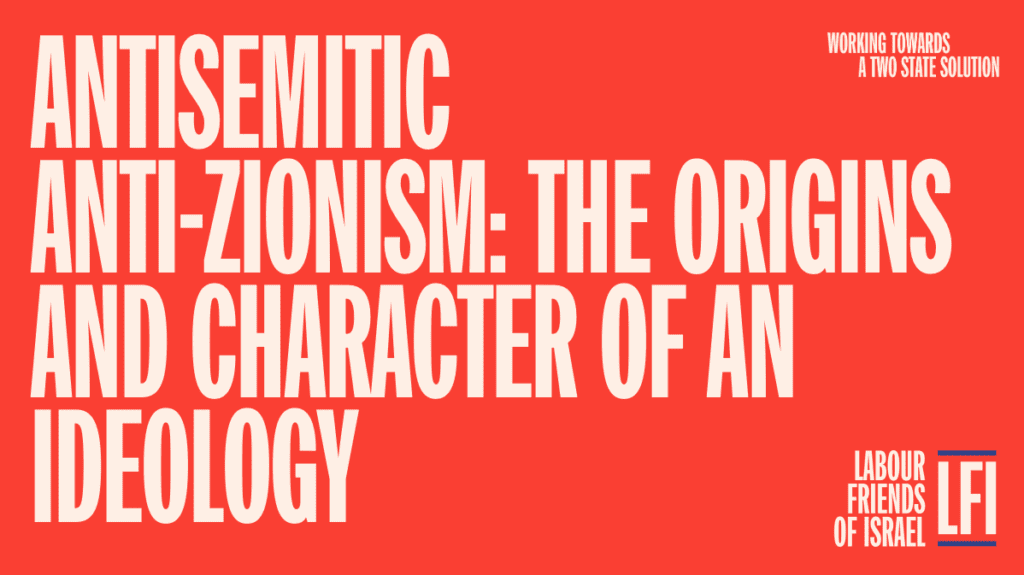 View a PDF copy of our new pamphlet: Antisemitic Anti-Zionism: The Origins and Character of an Ideology
Labour Friends of Israel is proud to publish its latest policy pamphlet, Antisemitic Anti-Zionism: The Origins and Character of an Ideology.  
This publication explores the nature and origins of anti-Zionism as an ideology and its relationship with antisemitism on the left.  
With contributions from former LFI chair Dame Louise Ellman, senior lecturer in sociology at Goldsmiths David Hirsh, and Kennan Institute scholar Izabella Tabarovsky, the pamphlet also discusses how Labour has moved back to its historic position of support for Israel under the leadership of Keir Starmer. 
LFI would like to thank Louise, David and Izabella for their contributions to this publication. David is the Academic Director and CEO and Izabella is a Research Fellow of the London Centre for the Study of Contemporary Antisemitism (LCSCA), while Louise was Labour MP for Liverpool Riverside between 1997-2019.
In her introduction, Louise Ellman reflects on her experiences as a proud Zionist in the Labour party, and lays out how Labour can avoid any return to the antizionist antisemitism of the Corbyn years.   
The chapter by David Hirsh explores the relationship between antisemitism and anti-Zionism, and lays out the distinction between scepticism towards Zionism before the Holocaust, and post-war opposition to the existence of the State of Israel.   
Finally, Izabella Tabarovsky's chapter sets out how modern antizionism was contrived in Stalin's Soviet Union, relying on antisemitic tropes and as part of its Cold War disinformation efforts.
Read the full report here: Antisemitic Anti-Zionism: The Origins and Character of an Ideology