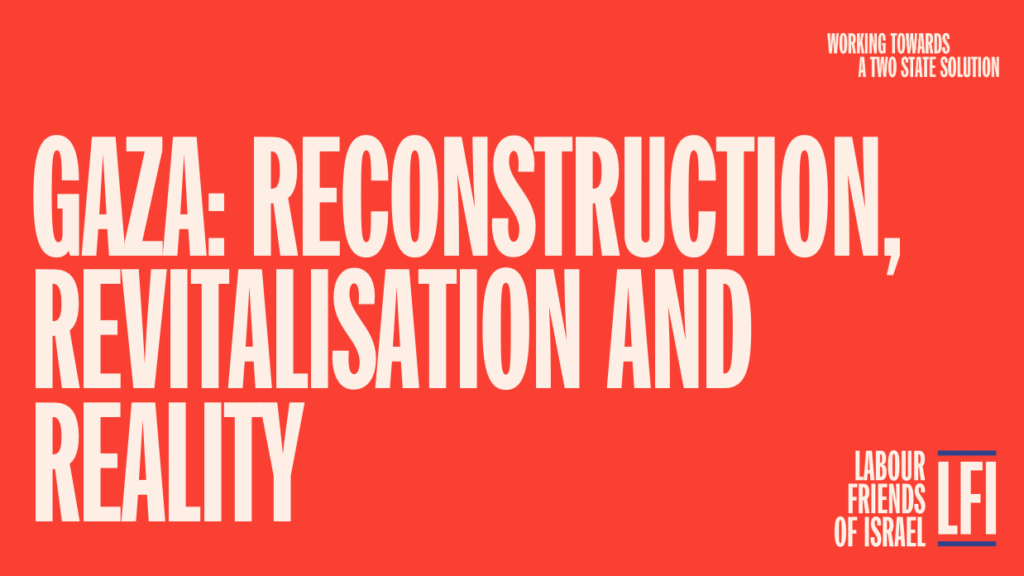 View a PDF copy of our new pamphlet: Gaza Reconstruction Revitalisation and Reality
Labour Friends of Israel is proud to publish our third policy pamphlet of the year: Gaza: Reconstruction, Revitalisation and Reality. 
This publication explores the causes of the present political and humanitarian crises in Gaza, and what steps might help to resolve them. 
With contributions from LFI vice-chair Diana Johnson MP, the Horizon Centre's Ibrahim Eid Dalalsha, and Bar Ilan University's Dr Toby Greene, Gaza: Reconstruction, Revitalisation and Reality also sets out a series of measures the UK government and international community should be promoting to improve the situation in Gaza. 
To ensure substantive and sustained progress, the West Bank and Gaza must be reunified under the Palestinian Authority, which the international community recognises as the legitimate representative of the Palestinian people. 
A permanent ceasefire between Israel and Hamas is likewise essential. 
The report calls for a series of steps, including:  
Tackle the humanitarian crisis in Gaza with investment in infrastructure and development projects, including a credible monitoring system to ensure that reconstruction materials are not diverted to Hamas.

 

Increase work permits and exports to stimulate the Gazan economy and reduce unemployment.

 

Boost exit permits for more Palestinians to study abroad.

 

Permanently reopen the Rafah crossing between Gaza and Egypt.

 

Free Israeli hostages held by Hamas, as well as the bodies of Israeli soldiers being held in Gaza.

 

Support the building of a Gaza seaport to increase external trade and Palestinian economic independence without undermining Israeli security.

 
Expert contributors to the publication, Dalalsha and Greene, respectively chart the causes of the current situation in Gaza, and what needs to happen to reconstruct and revitalise the Strip.
In his chapter, Dalalsha explores the origins of the division between the West Bank and Gaza and the split within the Palestinian national movement. He also explores past attempts and future possibilities for reconciliation between rivals Fatah and Hamas, and how the international community could support these efforts. 
Greene's chapter explores the challenges facing Gazans as a result of Hamas's continued rule, as well as setting out the areas in which progress needs to be made in order to improve the humanitarian situation, including the areas of energy, water, access, communications, work and trade. 
In her contribution, Johnson provides an overview of recent developments between Israel and Gaza, as well as setting out the above concrete steps that the international community could support to improve conditions for Gazans. These steps have been taken from LFI's last pamphlet, Steps to a Two State Solution. 
Read the full report here: Gaza Reconstruction Revitalisation and Reality