Ed Miliband showed strong solidarity with Israel and highlighted his personal connection to the country on his first visit as Leader of the Labour Party. The Labour Leader was joined by his wife Justine, Shadow Foreign Secretary Douglas Alexander, political advisors and LFI director Jennifer Gerber.
Ed Miliband met with Israeli and Palestinian officials, including Prime Minister Benjamin Netanyahu, his Israeli Labor counterpart, opposition leader Isaac Herzog and President of the Palestinian Authority Mahmoud Abbas. Ed's visit began with a breakfast with senior Labor party MKs, followed by a question-and-answer session with students at the Hebrew University of Jerusalem. During his visit to Jerusalem, Ed also participated in a moving ceremony to honour the memory of the victims of the Holocaust at Yad Vashem.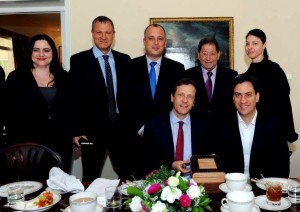 Ed Miliband's meeting with Isaac Herzog and Senior Labour MKs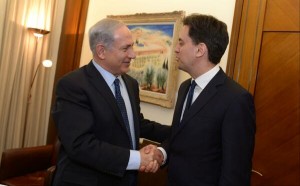 Ed Miliband with PM Benjamin Netanyahu
On the second day of his visit, Ed Miliband visited Sderot where he met with Israelis affected by rocket attacks launched by terrorists from Gaza. Later on that day, Miliband met with a group of Israeli tech entrepreneurs to better understand how UK and Israeli businesses can work together.
Ed Miliband at Yad Vashem, Museum of the Holocaust
Ed Miliband in Sderot
Jennifer Gerber, Director of Labour Friends of Israel said: "It was a privilege for Labour Friends of Israel to join Leader of the Labour Party Ed Miliband and Shadow Foreign Secretary Douglas Alexander during their visit to Israel. Ed discussed ways to increase and deepen the UK-Israel bilateral relationship, and also strengthen ties between our party and the Israeli Labor Party. This visit demonstrates his strong support for Israel, his determination to work towards a two-state solution and the strong relationship LFI has built with the Leader and the Shadow Cabinet over the last four year".