Steps to a two state solution: For Israel, for Palestine, for peace
Step Twelve: Pressure the Palestinian Authority to stop human rights abuses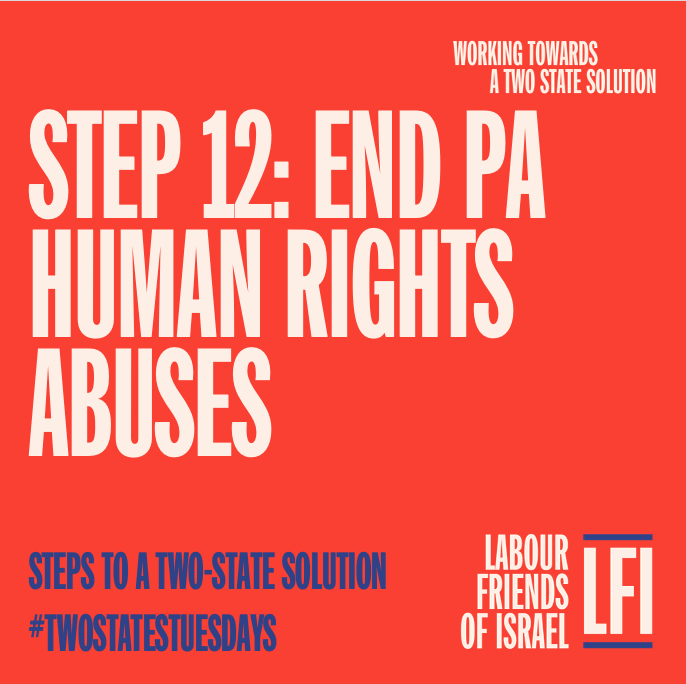 Alongside Mahmoud Abbas' failure to hold elections in the Palestinian Territories since 2007, the Palestinian Authority has, in recent years, shown a growing unwillingness to tolerate political and civic society dissent and has thus taken on an increasingly autocratic hue. 
Reports from Human Rights Watch published in October 2018 and May 2019 accused both the PA and Hamas of engaging in "systematic" torture and arbitrary arrests in order to stifle social media criticism, independent journalism and peaceful protests. The use of torture is widespread and deliberate enough to constitute "governmental policy", HRW alleged. "In detention, security forces routinely taunt, threaten, beat, and force detainees into painful stress positions for hours at a time." The 2019 update found that there had been "no let up" in the arbitrary arrest and torture of peaceful critics and opponents by the PA and Hamas and, it reported, between January 2018 and March 2019, the PA admitted detaining more than 1,600 people based on the peaceful expression of opposition to its rule. "The Palestinian Authority and Hamas remain bitterly divided, but unified in a common approach to crushing dissent," said Eric Goldstein, deputy Middle East and North Africa director at HRW. "Leaders who have been in power for more than a decade without elections should at the very least listen to criticism, not punish it."
An updated report in July 2022 reached similar conclusions, accusing the PA of "systematically mistreating and torturing Palestinians in detention, including critics and opponents". The 2022 report pointed to the death in custody in 2021 of activist Nizar Banat, as well as the violent dispersal of protestors demanding justice for his death, as an example of PA authoritarianism.
The PA's actions are also harmful to the peace process. "The oppressive policies of the PA have undoubtedly contributed to the alienation of large parts of the Palestinian public, and pushed some further towards extremist groups such as Hamas," suggests Palestinian human rights activist Bassam Eid. "These abuses by the PA have hardened attitudes against the process of negotiations with Israel, an undertaking with which President Abbas's government is deeply associated. As the PA becomes increasingly tarnished in the eyes of the Palestinian public, so too will the peace process with which the PA has been engaging come to be seen in an ever worse light."
International donors to the PA, such as Britain and the European Union, should consistently and publicly call out human rights abuses by the PA, and make Abbas' Authority live up to its promises to protect such rights.
Further reading:
Two Authorities, One Way, Zero Dissent
Palestine: No letup in arbitrary arrest, torture
Palestinian Authority jails journalist again over Facebook post
Palestinian Authority said to arrest main witness in trial for critic's killing
Palestinian Authority steps up crackdown on activists, rivals in West Bank