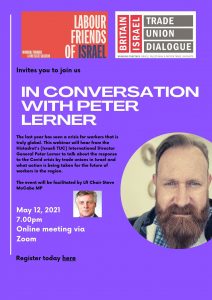 LFI and BITUD invites you to us in conversation with Peter Lerner.
12 May 2021, 7pm via Zoom.
The last year has seen a crisis for workers that is truly global. This webinar will hear from the Histadrut's (Israeli TUC) International Director General, Peter Lerner, to talk about the response to the Covid crisis by trade unions in Israel and what action is being taken for the future of workers in the region.
The event will be facilitated by LFI chair, Steve McCabe MP.
Register today here.