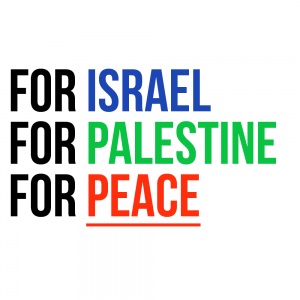 LFI's campaign – 'For Israel, For Palestine, For Peace' – aims to support the creation of an International Fund for Israeli-Palestinian Peace; a fund designed by the Alliance for Middle East Peace to boost spending on coexistence work.
Such people-to-people work is already evident in all kinds of fields. From sports clubs for children and young people to environmental, cultural, economic and interfaith projects, the job of building positive relationships across conflict lines is a vital foundation upon which any future peace process will be constructed. Research shows such work fosters conflict-resolution attributes such as enhanced trust and builds constituencies for peace.
Prior to the launch of LFI's campaign, Britain spent nothing on supporting coexistence. This situation changed with the £3m 'People for Peaceful Change' project which ran from May 2017 to March 2020, thanks to LFI's efforts. LFI is now pressuring the government to ensure funding for coexistence continues moving forward.
But this funding must also act as a catalyst for the creation of an International Fund for Israeli-Palestinian Peace to ensure support for coexistence projects is both long-term and sustained. It would aim to leverage and invest $200m in people-to-people work split roughly equally between the US, Europe, other international partners including the Arab world, and the private sector.
As Britain found in Northern Ireland, broad popular support is an essential underpinning  a successful peace process. The International Fund for Ireland, upon which the fund is modelled, was vital in building that support.
Over the two decades since the signing of the Oslo Accords, an extensive and growing network of NGOs has worked at a grassroots level to foster the values of coexistence, peace and reconciliation between the Israeli and Palestinian peoples which will be required if a future settlement is to be sustainable.
However, despite the huge investments made by the international community in the peace process, coexistence work has not been viewed as an essential part of this investment.
The International Fund for Israel-Palestinian is explicitly not intended to replace support that would otherwise be provided directly either to the Palestinian Authority or to Israel. Crucially, therefore, the intent behind it is to bring additional resources to solving this conflict by highlighting a critical need to support civil society projects and by unlocking large-scale project opportunities not possible with current resources.
Thanks to LFI campaigning, the UK government has said it will support the establishment of the International Fund. Now it must turn words into deeds and pledge funding for it.
We at LFI feel now is the time to start prioritising coexistence work to lay the foundations for a lasting peace.
You can also read an article from former LFI chair, Joan Ryan, about the fund here. In 2017, Joan Ryan tabled a Ten Minute Rule Bill in Parliament in support of the fund. You can read about the bill here and watch the video below:
Middle East Entrepreneurs of Tomorrow
To show the impact co-existence projects can have, here are two quotes, one from an Israeli and one from a Palestinian, who participated in MEET (Middle East Entrepreneurs of Tomorrow). MEET connects, educates and empowers the next generation of young Israelis and Palestinians to become a network of leaders for positive change through technology and entrepreneurship.
A Palestinian student:
"Ever since I joined MEET as a high-school student, I've been influenced by the motivating and inspiring atmosphere created jointly by every member of the MEET family: students, instructors, and staff. Even though at times I have not been fully certain of my potential, doubting my abilities to achieve one goal or another, I have learnt in time to adopt the can-do attitude reinforced at every step of the MEET journey. Upon finishing a BA and MA in mathematics, I was eager to explore different interesting yet challenging territories. So I joined the venture lab as part of the alumni programme. Having had zero experience in the world of entrepreneurship, I did not have a clue where to start or how to go about developing an idea. However, with every stage of the project, MEET has supported me and my team members with all the right ingredients of success, ranging from qualified mentors to the much-needed moral support. After this challenging experience, I felt skilled and confident to build my own idea and bring it to life. I joined the multinational pharmaceutical company, Teva, and I have since been working as a social entrepreneur on developing a mobile app that serves Palestinian pregnant women in East Jerusalem and Ramallah. I now feel confident that my project will flourish in this community, and will make the women's experience much easier and smoother, for I have all the right skills and attitude to accomplish anything I set my mind to."
An Israeli student:
"Before I was introduced to MEET, I was an average 'geek' interested in physics and maths who had no interest in politics and comfortable in my own 'bubble'. One day a guy from MEET called Mustafa came to my school and explained about the programme … [and how] MIT instructors teach you computer science and business and help you design your own projects. Given the geek that I was (and still am), I immediately signed up because of the MIT instructors. The Palestinian-Israeli part of the programme didn't catch my interest at that stage. Three years after joining the programme, I am proud to say that the programme changed the way I view the regional conflict and made me want to make an actual change. I am currently working with a Palestinian I met in MEET and an Israeli (from an Orthodox family) on a CMS project – and together we are showing people in the region that Palestinians and Israelis can co-exist and work together."