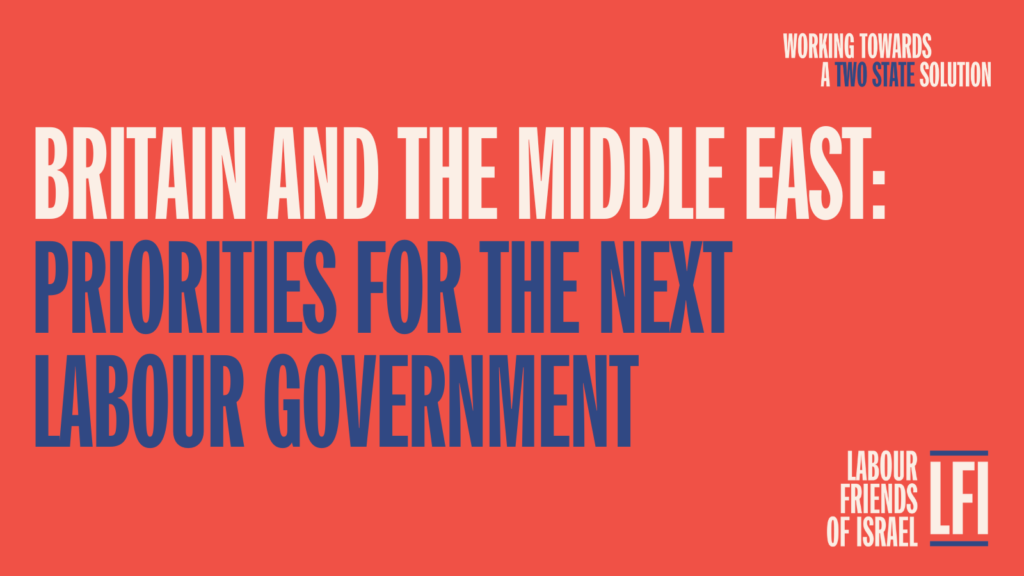 Ahead of Labour's annual conference next week, LFI has released its latest policy pamphlet: Britain and the Middle East: Priorities for the Next Labour Government exclusively in the Guardian today.
Priorities for the next Labour government
Britain and the Middle East: Priorities for the Next Labour Government offers 26 policy recommendations to a wide range of issues relevant to the Middle East.
Authored by Labour parliamentarians and policy experts, the pamphlet calls for measures to advance a two-state solution; counter the threat posed by Iran; strengthen the relationship between Britain and Israel and challenge anti-Israel bias in international institutions; and make Britain a key global partner for progress in the Middle East.
This is LFI's fifth policy paper since Keir Starmer's election as party leader, and follows publications on antisemitic anti-Zionism, the changing Middle East, the multitude of challenges posed by Iran steps to a two-state solution, and the situation in Gaza in the previous two years.
Gearing up for government
In his introduction, LFI chair Steve McCabe lauded the process of "radical renewal which Keir has brought to the leadership" adding that "Labour is, once again, a credible party of government."
It is in this context that LFI has produced this pamphlet, designed to offer a range of policy recommendations available to Labour when they assume office.
There has been a transformation for Labour from a party "no longer animated by the mindset of opposition, but one engaged in thinking through the tough choices and responsibilities of government."
Despite cuts by the Conservatives, Britain is still an important global player with particular influence in the Middle East. A Labour Government should embrace this and work with its allies to benefit the entire region.
Learning from the past
Toby Greene, a lecturer in the Department for Political Studies at Bar Ilan University and author of Blair, Labour and Palestine: Conflicting Views on Middle East Peace After 9/11, looked at the last Labour government and the lessons that can be learnt from its experiences.
Greene makes clear that an incoming Labour government will face a range of challenges very different from those which confronted the party in 1997 and that is also the case for Israel and the Middle East.
He noted that when Labour came to power in 1997, the focus was on maintaining momentum towards a conflict-ending agreement. At present, however, a Labour Government must focus on preventing further deterioration and seizing opportunities for incremental improvement.
Greene alludes to the personal warmth both Tony Blair and Gordon Brown showed towards Israel, viewing the country as an expression of Jewish self-determination and a democracy – attitudes bolstered by the strong relations each had with the British Jewish community.
He concludes that keeping the window open for a two-state solution should therefore remain the goal of a Labour government working in coordination with the US and with European partners.
A changing region
In their chapter, Matthew Godwin and Jemima Shelley, respectively programme lead and senior analyst at the Tony Blair Institute for Global Change, set out how the UK can be a key global partner for progress in the Middle East.
The authors examine how the pessimistic lens through which many in the west view the region – as a source of problems rather than solutions – is belied by the Middle East's ambitious reaction to the challenge of climate change; economic diversification and accelerating entrepreneurship; and an emerging youth demographic which rejects religious fundamentalism and women's exclusion in favour of jobs, growth and peace.
They suggest that Britain should work constructively and creatively to deepen growing ties in the region, especially the Abraham Accords process, playing to its strengths in innovation, education and diplomacy. This would also see Britain established as a key partner for the region's economic diversification agenda.
Promoting a two-state solution
LFI vice-chair Dame Diana Johnson's chapter argues that Labour should adopt an approach towards the Israeli-Palestinian conflict which is "pro-Israel, pro-Palestine, and pro-Peace".
To do this, she argues, Labour should support a settlement freeze as part of a process involving reciprocal confidence-building measures on the part of the Palestinian Authority and Arab states, especially Saudi Arabia.
Johnson also argues that Britain should take steps towards the establishment of a viable, democratic, and independent Palestinian state through renewed investment in the PA, which would be linked to measures to end incitement and improve Palestinian governance and human rights.
Vitally, she argues that Labour should learn from the experience of the International Fund for Ireland and position Britain as the world's leading advocate of civic society peacebuilding in Israel-Palestine by throwing its weight behind the International Fund for Israeli-Palestinian Peace, as envisioned by the Alliance for Middle East Peace.
Strengthening the bond
In their chapter, Richard Pater and Dr Jack Omer-Jackaman argue that bilateral ties between Britain and Israel have entered a "golden age".
The UK is Israel's largest European trade partner, worth £7.2bn in 2022 – up from £5bn in 2019.
Pater and Omer-Jackaman discuss the benefits Britain receives through its close ties with the Jewish state, noting the past decade has seen a significant increase in direct Israeli investment into the UK, which supports over 15,000 British jobs.
Both Britain and Israel benefit from shared research among their respective world-class universities and research institutes. Israeli innovation could also assist the UK in dealing with two of the most pressing challenges of the 21st century: healthcare and the environment.
Pater and Omer-Jackaman conclude that Labour should pursue the adoption and implementation of a free trade agreement between Britain and Israel and enhancing bilateral military, tech and international aid ties.
Dealing with Iran
The chapter authored by Kasra Aarabi, director of IRGC Research at United Against Nuclear Iran (UANI), gives an overview of Britain's failed approach to the Iranian regime and the protest movement that swept Iran after the death of 22-year-old Mahsa Amini.
Aarabi's chapter sets out how the threat posed by the Iranian regime is much greater than it was in 1997. The Islamic Republic's nuclear and ballistic missile programmes continue to grow in strength, while its neo-imperialist influence – exercised through proxy armies such as Hamas and Hezbollah – has vastly expanded throughout the region.
The Islamic Revolutionary Guard Corps (IRGC) has consolidated its stranglehold on power, exemplified by the rigged contest which brought Ebrahim Raisi to the presidency in 2021.
Aarabi also explains that the threat from Iran has become more evident in the UK, with a network of Khamenei-run centres in the UK which have either hosted IRGC-related extremist propaganda activity or have direct ties to the IRGC.
He suggests the next Labour government must pursue three concrete policy actions. The first would be to shut down Khamenei's ideological centres in the UK, which are spreading hatred and encouraging violence. Second, the UK should target and sanction those profiting from the Iranian regime. Finally, Aarabi endorses the existing Labour policy of proscribing the IRGC as a terrorist organisation with immediate effect.
Reforming international institutions
Baroness Ramsay of Cartvale, LFI's chair in the House of Lords, uses her chapter to examine the continuous efforts to demonise and delegitimise Israel in international institutions, most notably the United Nations General Assembly and UN Human Rights Council (UNHRC).
Baroness Ramsay lays clear the difference in the way Israel is treated in international institutions. Since 2015, for instance, the UN General Assembly has passed 140 resolutions condemning Israel. No other country comes close to this number.
Britain ought to take the lead, she suggests, in addressing the manner in which international institutions treat Israel.
Baroness Ramsay concludes that Labour should work to reforming the UN's Human Rights Council and commission a statistical analysis of institutional anti-Israel bias at the UN and other multilateral organisations. A significant domension of this effort would be addressing Agenda Item 7 of the UNHRC, which ensures that disproportionate scrutiny of Israel is built-in to the institution's work and perpetuates the singling out of the world's only Jewish state.
Strengthening soft power
In the final chapter, LFI vice-chair John Spellar explains how Britain's soft power has been curtailed by the Conservatives since 2010, and outlines how Britain must work to revive its soft power and invest in stronger regional civic societies.
Britain's diplomatic service has been reduced, with £90m cut last year from specialist work on conflict resolution in the Middle East and North Africa. Furthermore, Spellar highlights, vital soft power institutions such as the British Council have experienced neglect and tightened budgets: programmes have been eliminated, offices closed and up to 20 percent of staff made redundant.
Spellar proposes that the next Labour government should ensure that Britain uses its influence in the region to support peace, democracy and human rights while reversing cuts as the fiscal situation allows in order to restore the UK's global influence.
Finally, Spellar concludes that a Labour government should work to support and nurture those aspirations: punishing those who abuse human rights and assisting those progressives who seek a better future for their countries in the Middle East and beyond.