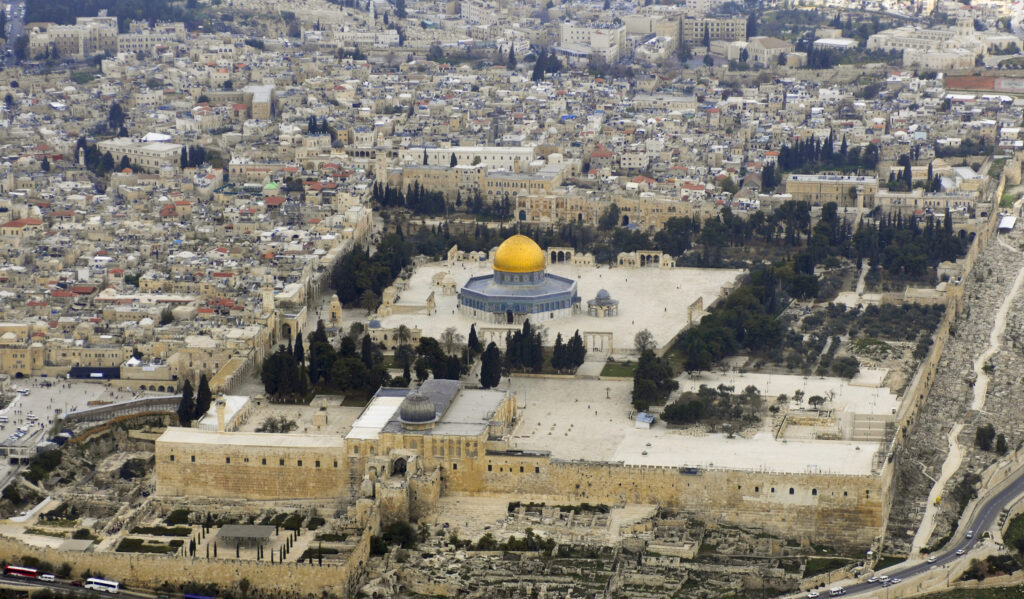 Jerusalem is quiet but tense after further clashes between Palestinians and Israeli police at the Temple Mount/ Al-Aqsa Mosque complex on Friday. The tensions – a frequent feature of Ramadan in the city, exacerbated this year by the confluence of Passover and Easter – have been long anticipated, but have taken place against a backdrop of a bloody month of terror attacks and renewed rocket fire from Gaza and across Israel's northern border.
What happened
Tension in the Holy City
Friday's violence replicated that seen at the Al-Aqsa Mosque the previous week. In an apparently premeditated move Palestinians rioters barricaded themselves inside the mosque with a stockpile of rocks and fireworks, some of which were hurled at police. Israeli police entered the mosque compound to arrest those responsible. Calm was restored later that afternoon, with prayers for 50,000 Muslim worshippers taking place without incident. Further skirmishes occurred at the compound last week as Israeli police responded to rocks and Molotov cocktails being thrown from within the Al-Aqsa Mosque. The firebombs reportedly caused small fires in the mosque, which were extinguished before greater damage was done. Palestinians rioters also attacked buses outside the Old City as a number of Passover-related events drew thousands of Jews to the Western Wall. Windows were smashed wounding passengers, and Jews in prayer shawls attacked on their way to the wall.
The political fallout
The Islamist Ra'am party has temporarily frozen its participation in both the governing coalition and the Knesset. The move is largely symbolic – it has been coordinated with prime minister Naftali Bennett and Lapid and the Knesset is in recess until 9 May – and is reportedly aimed at easing pressure on the Arab-Israeli party. However, the freeze comes at a difficult time for the government, which lost its wafer-thin majority following a defection to the opposition by a member of Bennett's Yamina party earlier this month.
Efforts to calm …
The Israeli government has made a number of moves to defuse tensions in Jerusalem, an effort which began weeks ago with high-levels talks with both the Palestinian Authority and neighbouring Jordan. In early April, Israel and the PA agreed to maintain security coordination throughout Ramadan.
… and to incite
In his remarks on Sunday Lapid also accused terror groups of "hijacking the Al-Aqsa Mosque in order to create an outbreak of violence in Jerusalem, and from there, a violent conflict across the country". Israeli officials believe Hamas is likely behind many of the events of recent weeks.
Israel stays its hand as rockets fly
Six rockets were fired from the Gaza Strip in the last week, four of which exploded inside Israel. However, there has thus far been no repeat of the large-scale violence on the border seen last May following tensions in Jerusalem.
A month of terror
Fourteen people have been murdered in Israel in a series of deadly attacks over the past month. Stabbings, vehicle-rammings and shootings have brought terror to Beersheba, Hadera, Bnei Brak and Tel Aviv. Lapid said on Sunday that, since the start of 2022, the IDF has prevented 126 significant terror attacks. On Monday, Shin Bet revealed it had cracked a West Bank terror cell directed by PIJ operatives in Gaza.
What happens next
The government will hope that its actions last week will ease tensions as Ramadan heads to a conclusion on Sunday evening. However, its breathing space may be limited with Israel's Independence Day and the Palestinians' Nakba Day occurring at the end of next week.